Why do you recommend to buy new SLD laser?
The laser module based on SLD (Semiconductor Laser Diode) design is the best choice for laser repair.
Our new lasers are simpler and more reliable than the original Shimadzu or Showa modules.
Diode laser modules require less power and have a longer life than other laser modules.
Our modules are professionally designed and manufactured by specialists for quality laser repair.
What is the estimated resource of your New Lasers?
It is safe to say that the SLD laser module has one of the best resources among modern lasers.
We estimate the laser lifetime to be over 10,000 hours.
What design of the laser module do you use now?
All our Blue and Green Lasers have been designed for Semiconductor Laser Diode (SLD) as the main component. We name it as Diode modules.
What is the difference between a DPSS laser module and a Laser Module designed on Semiconductor Laser Diode basis?
DPSS stands for Diode Pumped Solid State Laser.
Almost all minilabs manufactured between 2000 and 2010 have DPSS laser modules inside their laser-optical section.
If you want to know more about DPSS lasers, you can read about it on Wikipedia.
DPSS lasers are quite complex in design with many different electronic and optical components inside.
All of these parts are designed to convert an 808nm infrared laser beam to 1064nm and then convert it to 532nm (green) or 473nm (blue).
You can see a rough outline of the green DPSS components here:
It contains a powerful 808nm infrared diode laser that pumps a Nd: YVO4 laser crystal, which in turn emits light with a wavelength of 1064nm. This beam doubled inside the nonlinear KTP crystal, resulting in green light at half the 532 nm wavelength.
This beam is expanded and filtered in the infrared range.
And we all know that:
If there are many parts, the risk of failure increases. So we have so many examples of DPSS laser failure (noise, blur, etc.).
But science does not stand still …
It is no longer necessary to convert 808 nm to 532 nm or 473 nm.
We now have all the parts inside a small semiconductor laser diode without any intermediate conversions …
They can emit 520-530 nm (green) or 455-460 nm (blue) without all the disadvantages of a DPSS laser.
Lasers based on laser diodes have low power consumption and high performance.
They operate at low currents and have a longer service life.
Please have a look at the simplified diagram of the laser diode below: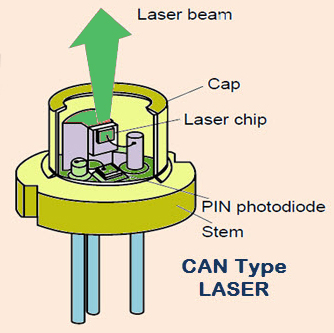 What do you do to upgrade the DPSS module to SLD version?
We remove all obsolete DPSS components and replace them with the latest SLD components.
Here is the upgraded Shimadzu laser module without the top cover.
If you look at the images below, you can see that the design of our module is simple.
SLD module consists of:
1. Semiconductor laser diode 460nm or 525nm.
The output diode features an energy-efficient design that provides the lowest output optical noise with an incredibly stable beam.
The housing design provides the highest level of protection available today in a laser module.
2. Diode control board.
The innovative design and high-performance drive electronics combine to provide unmatched power stability and beam pointing stability over time and temperature.
Low noise drive electronics provide extremely low noise optical output.
The minilablaser.com electronics design incorporates many revolutionary changes in laser module control.
3. Output optical block
There is only one high-quality glass lens inside, and this factor greatly reduces the risk of fogging misalignment, or damage to the optics during prolonged exposure.
4. Peltier Cooling Module (TEC)
Do I need to return the original Laser Driver and module if I buy New Laser Module Kit from you?
Not if you buy an SLD laser module from our production.
In this case, we do not require the return of defective parts.
If you buy our new laser module kit, you can leave all original parts such as the laser module at your disposal.
Moreover, if you want to upgrade your old faulty laser module to the SLD level, we will do it for you with a good discount.
What models of minilabs can use your new laser module?
You can use our laser modules on any model of Noritsu Mini Labs and some Fujifilm.
If you have an AGFA, Durst, or Imetto mini-lab equipped with a solid state laser (SSL) optical section, you can also use it.
Can you repair the original laser module?
Of course we can, but we are not "fixing" it.
We upgrade the original Shimadzu or Showa laser module from DPSS to the SLD version, and after our upgrade, you will receive a completely new laser module.
In fact, we can repair any laser of any color for any laboratory from Noritsu, Fujifilm, Agfa (SSL), Polielettronica and Durst.
Visit our online shop if you would like to order a laser here.
Below is a list of minilabs where we can repair lasers:
Noritsu (all QSS and LPS 24 PRO models).
Fujfilm Frontier 330/340/350/370/390/355/375/500/550/570 and all LP7 series ***
Agfa Dlab 2 Plus Select, NetLab 2 and NetLab 2 plus
Polielettronica LaserLab
Durst
Imetto
Can you repair a gas laser?
Yes we can.
Since 2018, we have been offering our customers a new service: the repair of gas lasers.
We repair all gas lasers for all Agfa D-lab series and Durst mini-laboratories guaranteed to meet or exceed original manufacturer specifications.
Send us an inquiry to get more information about our gas laser repair service.
Can I use your new laser module with an original laser module in one laser unit? Are they fully compatible? Does there any conflict exist?
Yes, you can use them together in one laser machine!
There are no conflicts at all …
They are fully compatible and you can use them together.
The lab will work great.
This is confirmed by hundreds and hundreds of units sold.
Can I use your SLD laser module with my original laser driver? Will it work?
If we are talking about a non-universal laser module of our production, then it can work with any original laser driver.
When upgrading a Shimadzu or Showa laser module from DPSS to SLD, we tune it for a specific type of laser driver and also tune it for ideal performance.
But we also produce universal SLD modules that do not require connection to the original laser driver at all, but use their own small adapter.
Can you send to us your engineer to train our personnel how to install and adjust your New Lasers?
We are always ready to visit your company and train your engineers to install the laser module and fine-tune the laser beam if your company orders four laser modules at once and pays all the travel expenses of our engineer.
Send us your request and we will discuss all the details of the training courses by email.
Can you train our personnel how to repair optical units and sell know-how?
Sorry, we do not have this option.
Moreover, it is impossible to teach someone to repair a laser because every laser repair is different from each other.
On the other hand, if you buy an SLD laser module, you will get all the information you need on how to install and configure our product in our Installation Guide.
Where can I buy the New Laser Module and who will install it?
Our customers usually purchase lasers from our online store here.
You can also get lasers at our head office, located on the same premises as the research center and production line in Russia.
We always have a certain number of laser modules in the hands of our European representative, and at the same time we can send any module from Russia by courier delivery service.
You can also buy it from our regional dealers.
Their number is growing every month, and they are found in almost all countries.
The address or email of the nearest local dealer will be provided to you upon your request.
It is highly recommended that a trained engineer install a new laser module. If you are not sure if you have sufficient skill or ability to do it yourself, we recommend sending us the defective laser unit, and we will do all the replacement work for you at our research center free of charge.
What components do you use to make the New Laser Module? Who is a manufacturer?
We hope everyone knows that the original DPSS Shimadzu and Showa laser modules have obsolete components inside.
They were developed many years ago, and now there are more reliable and more stable components on the market that meet all our quality requirements.
Therefore, for the production of our new laser module, we use parts from the world's leading companies.
Besides:
All components undergo rigorous quality control and testing prior to assembly, and all are imported from Japan, USA or Germany.
It should be noted here that metal parts are manufactured at a local aircraft factory with the highest precision on modern computer-controlled machines.
The same plant produces the famous Sukhoi family of fighters – Su-27UBK, Su-30K, Su-35, Su-37, Su-30MK.
Thus, we are confident that you can imagine the quality of the equipment.
All electronics on printed circuit boards are also Russian-made.
What about the guarantee for your SLD Laser Module if I buy it just for stock?
We provide our customers with a three-year warranty for our SLD laser module.
You can buy our new laser and have it in stock for installation only when you really need it.
And the guarantee will be valid exactly from the moment of the first launch.
All you need is to inform us about the fact of installation, and we will enter it into our database.
* We must point out here that our new laser module has an internal controller that records all the estimated parameters, and we can always determine the actual date of the first launch and compare with your information.
What courier service do you use to ship your Laser Module to my location to ...?
EMS delivery is free to any country.
In case of emergency, we can send the laser module to you by any major express service such as DHL / UPS / TNT, etc.
But in this case, all transportation costs are borne by the client.
We provide our customers with the air waybill number for online tracking.
How can I pay you? In what currency do you accept the payment?
What companies are you dealers? Do I have any risk buying the laser from you?
You have no risk of losing money while working with us.
For many years we have been supplying our lasers to renowned European and international service companies.
Among them are Veritek EU, Noritek Hellas, Limitech GmbH.
Our modules work in almost all countries of the world.
We guarantee our customers reliable technical support during and after the warranty period.
PRESALES QUESTION?
Please call us or chat online.
We always respond to all email messages. Also, you can contact us through Viber or WhatsApp.
Welcome!
NEED SUPPORT?
We give strong  technical support
to all our customers during and after guarantee period.
All technical issues will be solved immediately.
CHECK FORUM
Please visit our forum for all professionals of the photofinishing business to discuss any issue in your lab. You're welcome to visit us at:
https://www.minilabforum.com